| | | | |
| --- | --- | --- | --- |
| | Hitchhikers returns on 21 September | | |
| | | |
| --- | --- | --- |
| | Posted on 22 Jun 2004 | |
| | | | |
| --- | --- | --- | --- |
| | Hitchhiker's film production starts today. | | |
| | | |
| --- | --- | --- |
| | Posted on 19 Apr 2004 | |
The Hitchhiker's Guide movie begins principal photography at Elstree Film Studios today. There is an all new cast, including Warwick Davis (the little chap who played Wicket the Ewok) as Marvin.

The visual effects are being created by Asylum, who do the cute BBC2 logo's (amongst other things) and the whole thing is being directed and produced by Garth Jennings of Hammer and Tongs, who did the Blur - Coffee and TV video.

MJ Simpson has put together an interesting interview with the producer and director. It all looks like an interesting adapation of the book, so I'll be keeping an eye on the production with interest.

In the meantime, I'm eagerly awaiting the Third Radio series, with all the members of the original cast (who are still alive). It has all been recorded, we're just waiting for various legal matters to be sorted out before a Radio 4 broadcast slot can be allocated.

Thanks to MJ Simpson for all his research on this.
| | | | |
| --- | --- | --- | --- |
| | Christopher Eccleston - new Doctor Who TV Series | | |
| | | |
| --- | --- | --- |
| | Posted on 20 Mar 2004 | |
It's official...

Christopher Eccleston has been cast as the Doctor in the new Doctor Who TV Series, due to air in 2005. Combined with the previously announced writer/producer Russell T. Davies, we can expect a much darker, deeper and dramatic Saturday evening hiding behind the sofa.

This is a very strong casting, one that may well upset people who like a multi-faceted Doctor. However if you want a tortured soul, and someone to drag the emotion from the pit of your stomach, Christopher Eccleston is probably able to deliver.

My only hope is the, as yet uncast, companion role, will go to Kelly Macdonald, mostly based on her work as Della Smith in State of Play

Shooting starts in Cardiff later this year, and the series will be on our screens in 2005. Meanwhile here are some clips of Christopher Eccleston...

The Doctor is coming back, and this time it's serious.
| | | | |
| --- | --- | --- | --- |
| | Just met Gary Russell | | |
| | | |
| --- | --- | --- |
| | Posted on 26 Feb 2004 | |
I just metup with Gary Russell (producer, director, author and lovely chap).

It's wonderful to see such a passionate, intelligent man in his element. We managed to talk at length about the various outpourings of Big Finish over the last five years, as well as reminiscences of the Audio Visual days. I've taped about 90 mins of interview, which I'll try and transcribe at some point.

Thanks so much for your time Gary, let's hope we can meet again soon :-)
| | | | |
| --- | --- | --- | --- |
| | Sweet Panic (Free Theatre Performance) | | |
| | | |
| --- | --- | --- |
| | Posted on 21 Jan 2004 | |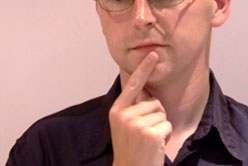 October 2007
Sun
Mon
Tue
Wed
Thu
Fri
Sat
1
2
3
4
5
6
7
8
9
10
11
12
13
14
15
16
17
18
19
20
21
22
23
24
25
26
27
28
29
30
31
Prev | Today | Next
What I'm reading
my feed aggregator ->box

My websites
London Java Meetups
Programming Projects
Elite in Java
megg
Blogmento
Jez's Photos
Fantasy Stock Market
Cool Saxophonist
Doctor Who Audios
Pisces Audios

Other Blogs
Mike Cannon-Brookes
James Strachan
Joe Walnes
Sam Dalton
Simon Brown
Cameron Purdy
Mike Roberts
Erik C. Thauvin
John Martin
Manfred Riem

B5 d++ t++ k s+ u- f
i+ o+ x-- e+ l- c--